Unserdeutsch (Rabaul Creole German)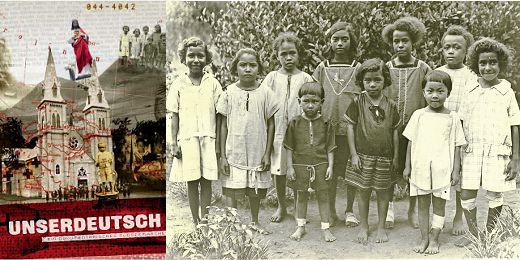 (left: Design: www.pacificografik.de | right: Picture: National Archives of Australia: A6510:157)
Rabaul Creole German (Unserdeutsch) is the only German-based creole language we know of. It had its beginnings in the Bismarck Archipelago in Papua New Guinea among children at the Vunapope Mission in what is now East New Britain Province shortly before and after World War I. Nowadays, only a few elderly speakers living in Papua New Guinea and the eastern states of Australia are still proficient in Unserdeutsch.
This website is meant to inform about the progress and results of a research project that aims at
(a) documenting Unserdeutsch as thoroughly as possible,
(b) reconstructing and presenting the development and history of the language as accurately as possible, and
(c) systematically describing the structure of the language.
The project is sponsored by


(Deutsche Forschungsgemeinschaft / German Research Foundation)
The website addresses linguistic researchers and the interested public, as well as the Unserdeutsch community itself. As a collection and publication of multimedia documents and relevant research results about the history and language of the Unserdeutsch community of East New Britain and their descendants, this website also provides information by and for this community. Linked to this website is the Facebook-group Unserdeutsch: The Creole German of Vunapope / Papua New Guinea, which the far-flung community can use to cultivate or renew contacts and share stories and documents, as well as comment on the materials on this site.
The project is being carried out in cooperation with
This website is currently under construction. More content will follow soon.